Unlimited News Journal – December 2022
Feature Story on Walt Ottenad & Lisa Courneya
Walt & Lisa were featured in a story about their involvement with unlimited hydroplanes in the H1 Unlimited Hydroplane Series. Walt is in charge of the H1 Unlimited Onboard Video program, website and app, while Lisa is in charge of the H1 Unlimited Drone program.
Dealerscope Magazine – November 2011
Feature Story on ADC Mobile
ADC Mobile was featured in the November, 2011 issue of Dealerscope Magazine as an example of one of the very few "elite" dealer expediters in the country.
Todd Ramsey focused on what sets us apart from the competition, paying particular attention to our product selection, training programs, award-winning website and our 100% commitment to customer service.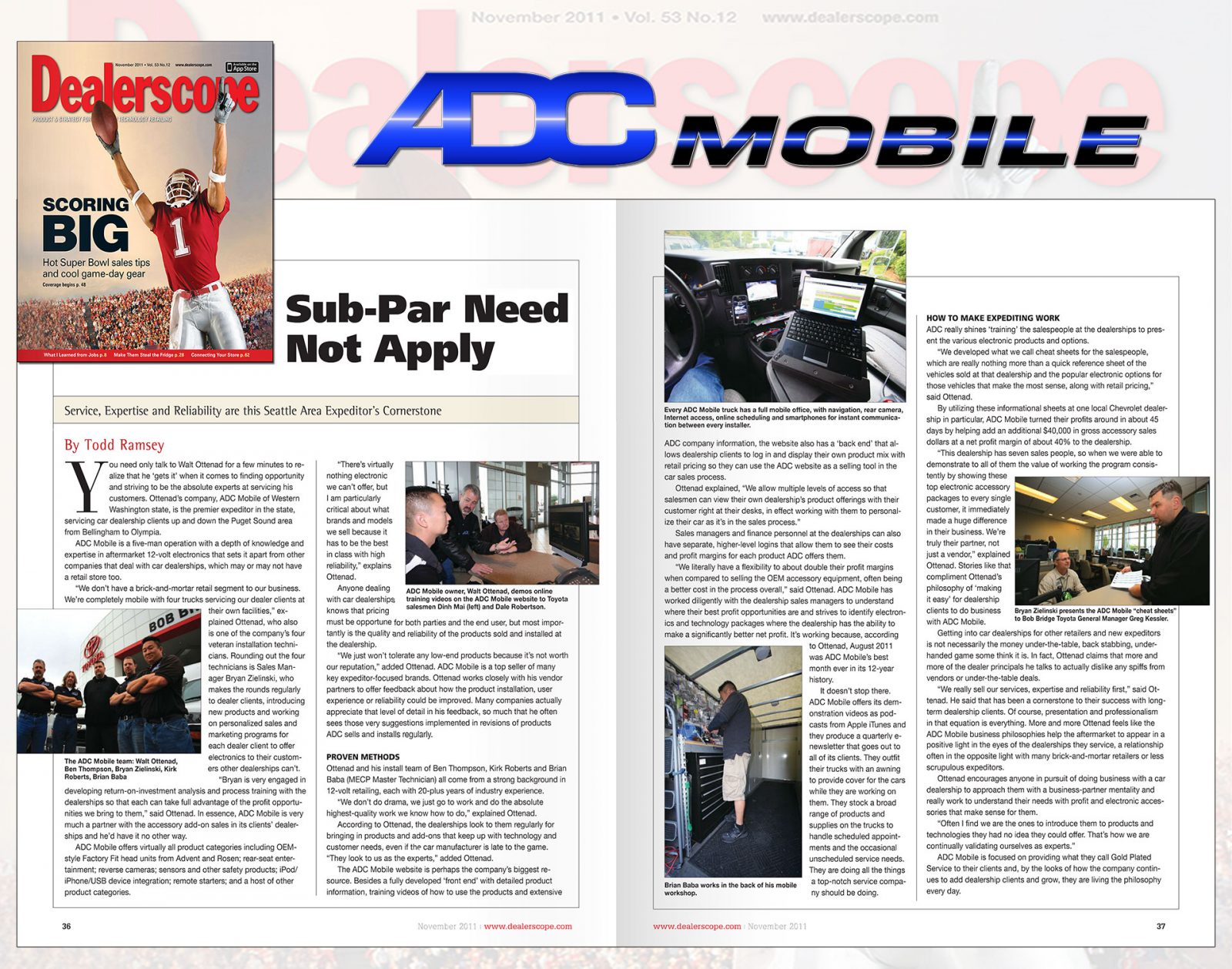 Mobile Electronics Magazine – August 2010
Cover Story Featuring ADC Mobile
KVI Radio Interview – 2010
Spotlighting Stealth GPS Tracking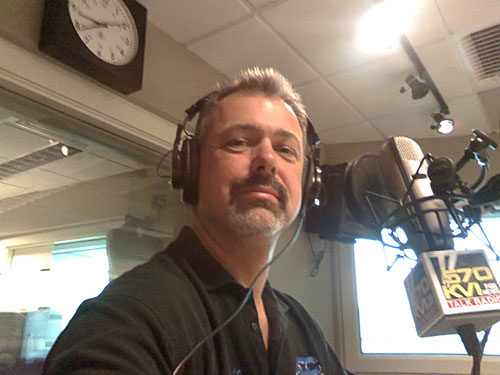 Tacoma News Tribune – April 2006
Featuring Ben Thompson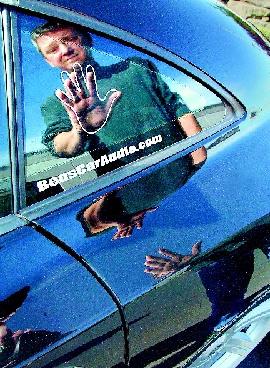 By Barbara Clements, The News Tribune, Tacoma, Wash.
Apr. 5–Radio frequency technology, known as RFID, can be implanted to be used as a security device. Benjamin Thompson walked over to his Chrysler Crossfire and calmly placed his palm on the outline of a hand on the rear driver's side window.
The car started up and the door unlocked. With that simple gesture, Thompson is relatively sure he's shifted radio frequency technology into high gear for the automobile security sector.
"To our knowledge, this is the first car like this that is enabled off a computer chip in the hand," Thompson said in the parking lot of his Auburn shop, Ben's Car Audio, where his employees install radio and security systems in cars.
Most of the buzz for radio frequency technology has come via the retail industry, such as Wal-Mart pushing suppliers to put chips in all their products or in the medical field, where implanted chips containing medical information can be scanned in case a patient is unconscious.
Currently, the auto industry uses radio frequency identification technology — RFID for short — on car keys as a security device, according to industry and technology trade Web sites. Unless the RFID reader detects the correct tag in the driver's key, the car won't start. The RFID sector in the auto industry generated $3.7 billion in annual worldwide revenues, according to one technology Web site.
Thompson and his crew plan to add a few dollars to that sector this year as they develop putting chips in cell phones, cards and other objects to act as ignition and security features in cars. If someone wants to get a chip implanted in their hand, they'll have to find someone else to do the procedure, Thompson said. But once done, the Auburn shop's crew can easily program the chip to start and lock the car, he said.
Thompson and his chief designer, Bryan Zielinski, figure they'll start retrofitting cars in about two months to start or lock using cell phones or other objects. That should cost a consumer between $500 and $600.
Getting a car to start via a chip embedded in a hand may take a bit longer — about three months — and will cost a bit more, Thompson said.
He'd like to keep the price of the latter retrofit under $2,000. Already, as word of Thompson's tinkering has spread, the e-mails and phone calls have flooded in. The company has a long waiting list once the bumps in the technology is smoothed out, said Zielinski. The product is not on the market yet.
Thompson, who has been intrigued with the possibilities of chip technology for years, said he first came up with the idea of chipping himself when a Bellingham man, Amal Graafstra, implanted a chip in his hand last March.
Thompson said that Graafstra — whose experiment rated a note in Wikipedia — uses the chip to boot up his computer. Looking at his car, Thompson mused that it "became aware" on March 24. He realizes that sounds like a line out of a "Terminator" movie. He planted a chip in his hand a week earlier. He was going to wait and have a registered nurse do it, according to a March 19 post on an technology forum called "Tagged," but couldn't wait. So poured alcohol over his hand, then did the incision himself, alone. "It was sort of a man and his chip thing," he grinned, looking at the incision between his ring and middle finger. "That procedure is not FDA approved," Zielinski said dryly as he listened to his boss' story.
Thompson then told the "Tagged" community of his link between hand and car.
Had anyone done it before him he asked? He thought he was the first.
As of Monday, no one had contradicted him.
WHAT'S RFID?
Radio Frequency Identification, or RFID, is an automatic identification method based on storing and retrieving data using devises called RFID tags or transponders.
–Typical uses: Security gates, credit cards, books at the library, on clothing
–Animal uses: Implanted in pets to help their owners find them should they become lost; tracks food sources such as cattle from one place to another
–Auto uses: Michelin began putting transponders in tires. Toyota has been developing a RFID system to start the car once the key is within a certain distance from the car.
–Human uses: The Baja Beach Club in Spain and in the Netherlands uses implantable chips to verify their VIP customers. Two years ago, the Mexican Attorney General's office implanted 18 of its staff members with chips to control access to a secure data room.
—–
To see more of The News Tribune, or to subscribe to the newspaper, go to http://www.TheNewsTribune.com.
Copyright (c) 2006, The News Tribune, Tacoma, Wash
Mobile Electronics Magazine – August 2005
Featuring ADC Mobile
This magazine featured the ADC truck and the unique way in which we do our business. The article was based on a two hour interview done on the road via phone…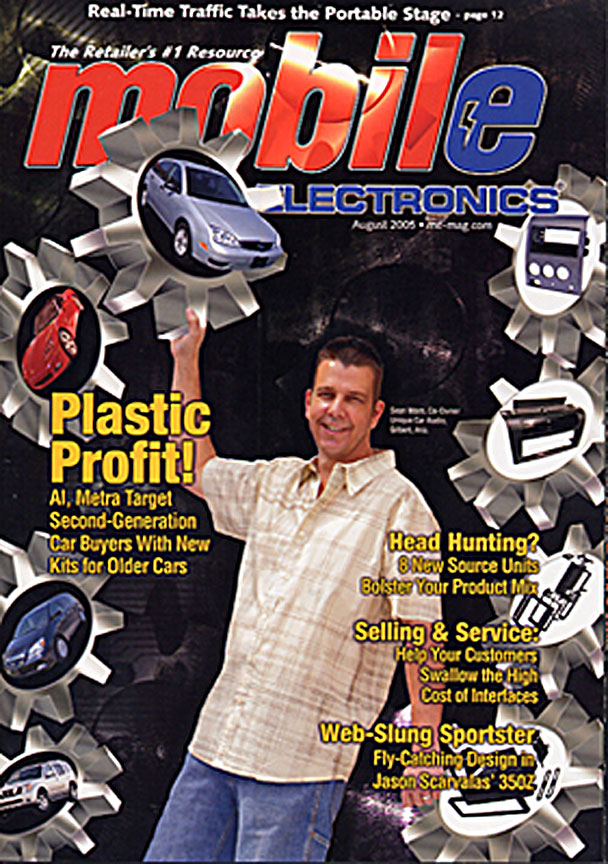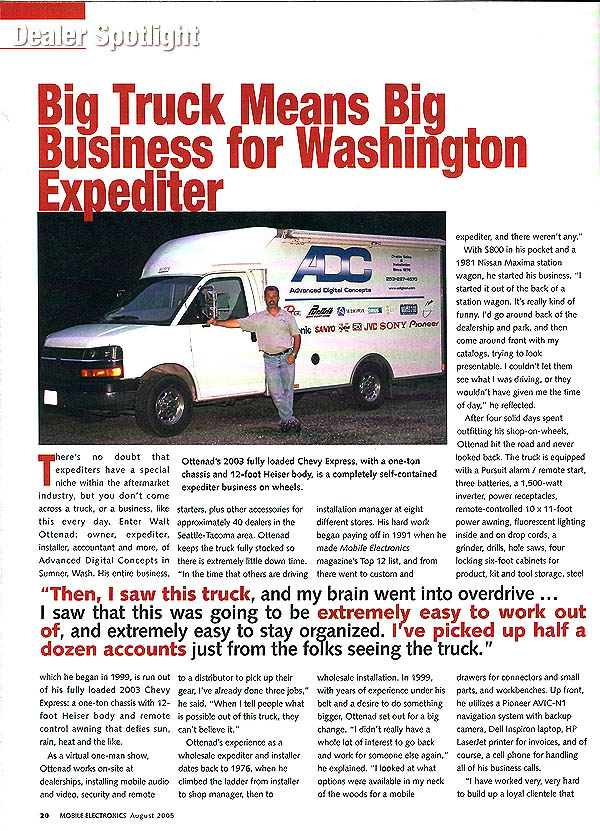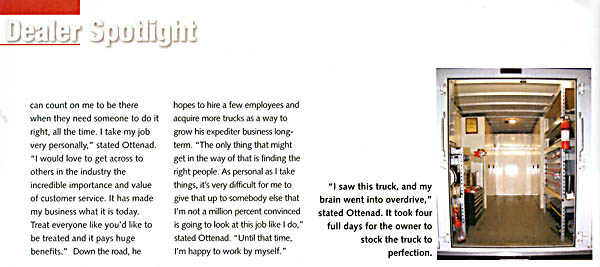 Car Audio Magazine – February 1993
Walt Ottenad – Mercedes 190E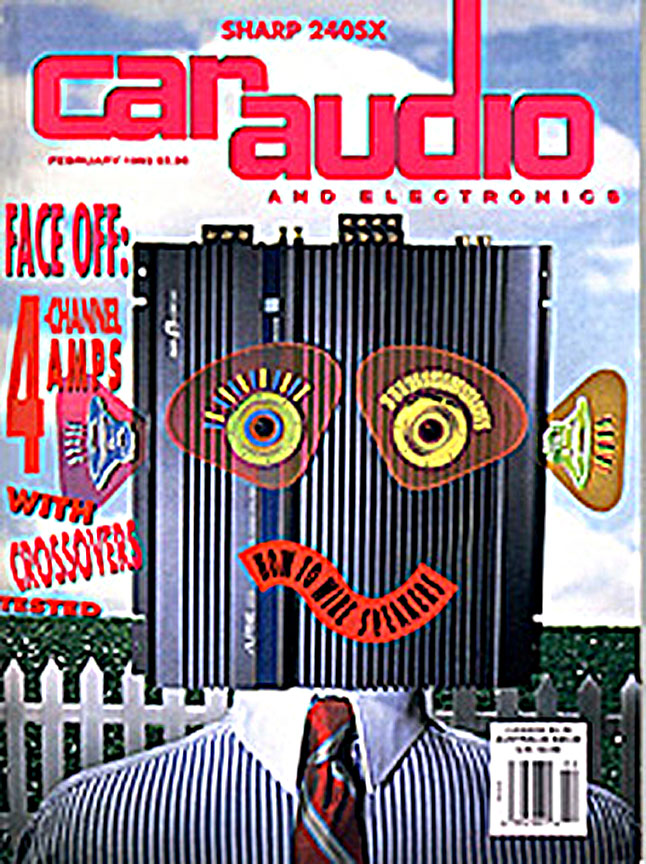 I did this job for Bob Hall in Kennewick, Washington, in 1991. This car was nice to begin with, and he did a lot of car stereo competitions with it as advertising for his shop, Traffic Jams. When I got involved with it, the two installers he had working on it, Brad Morrow and Jeff Johnson had done a decent system in it but nothing that would win him any competitions.
I spent a total of about 4 weeks working on this system, building almost all of the components in the trunk, including the laminate and plexiglass in the box. What an experience that was – building a jig for the 3/4″ plexiglass baffle that held the woofers took a day, then heating and bending the plex took another day, THEN drilling a hole for the clear plexiglass port (barely visible in the picture) took another 1/2 day and was a VERY stressful operation! The laminate alone in this car cost over $400 and had to be imported from Italy!
The vinyl work was a very intense process and the motorization of the CD changer and video cassette deck was a nice added touch. I added a readerboard in the trunklid so Bob could advertise anything he wanted to at any particular show he went to. The TV, front end, and most of the wiring of this car was done by Jeff and Brad, after I had left Kennewick. Bob eventually did VERY well at competitions in the Northwest with this car and it made numerous appearances at car shows including the Consumer Electronics Show in Las Vegas, at the Streetwires booth, in 1994.
All in all, this was one of the nicer cars I worked on, but by no means is it the one that got the most recognition. You might want to check out the Saleen Mustang below that won me the Top 12 Installer trophy in 1991.
MOBILE ELCTRONICS SPECIALST MAGAZINE – JUNE 1991
Walt Ottenad – 1989 Saleen Mustang – "Installer of the Year"
In 1991, I was at the top of the heap installing custom car audio in the United States, working for the premier custom shop in the Northwest, Mobile Audio. During the course of the year I worked on only a very few, very expensive car audio systems and was working toward getting most of the cars to the IASCA Nationals in Phoenix, Arizona. The Nationals bring the best of the best from all over the United States together to find out who has the most creative, most technical and best sounding vehicle in a number of different power categories, both in amateur and professional classes. This Mustang was owned by the owner of Mobile Audio, who gave me total freedom to push the limits on this car – the only thing that was absolutely written in stone was that the car HAD to be in Phoenix one month from the beginning of the project – an extremely tight schedule…
The car already had an extremely capable system installed by the crew at Mobile Audio before I arrived, and it had already been featured in Car Audio Magazine as a system that was definitely ahead of its time and was built for sound quality: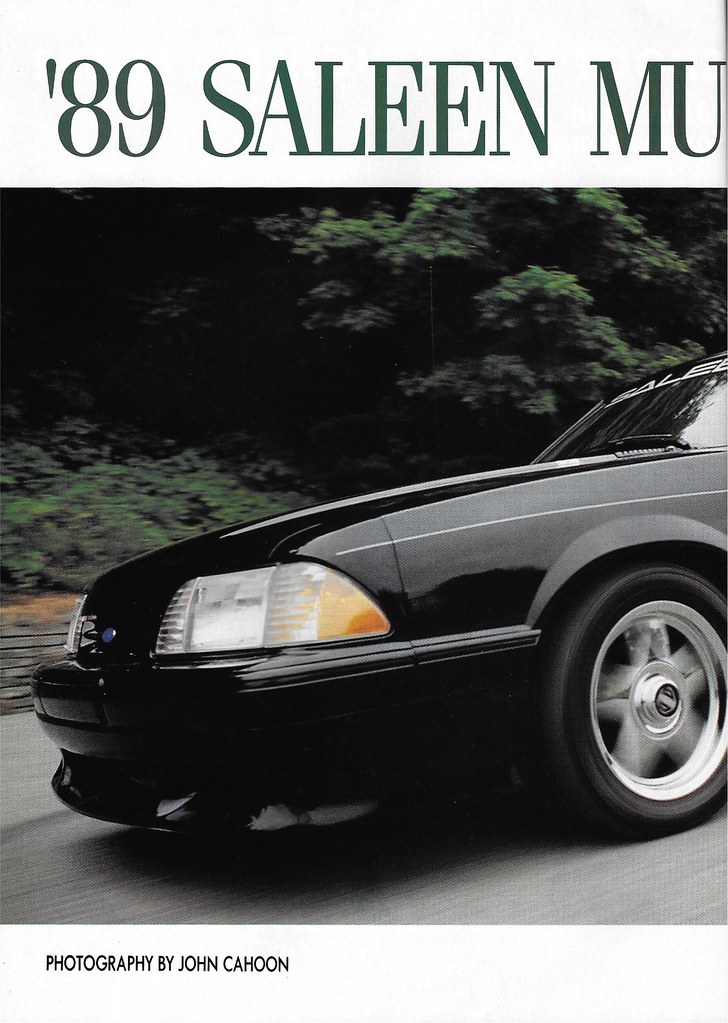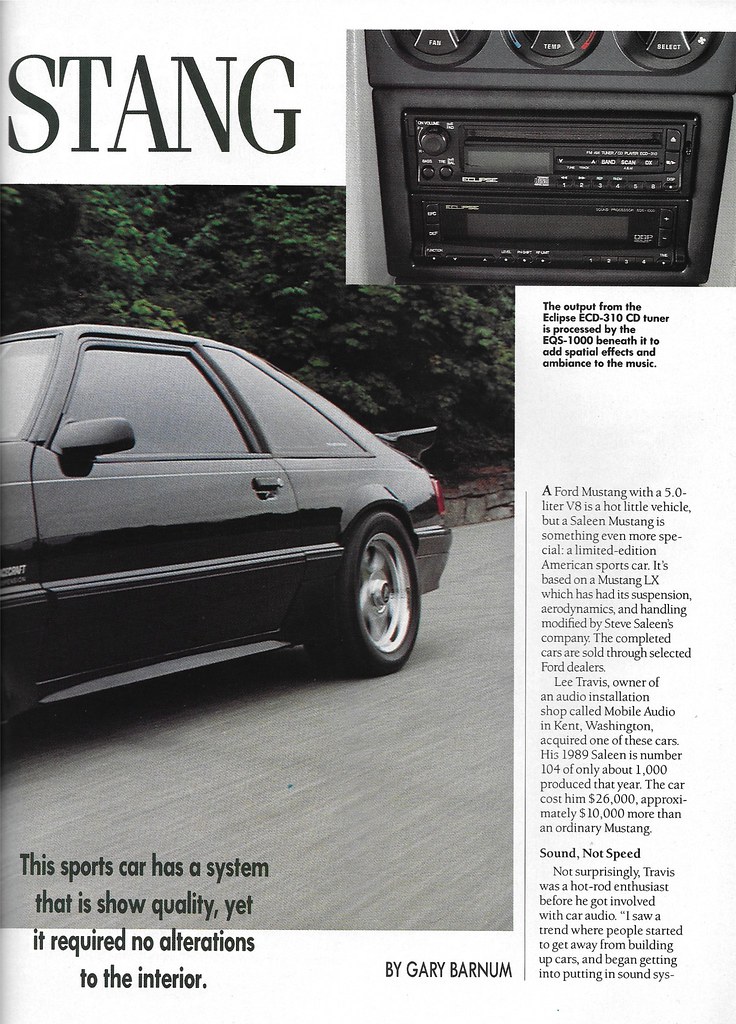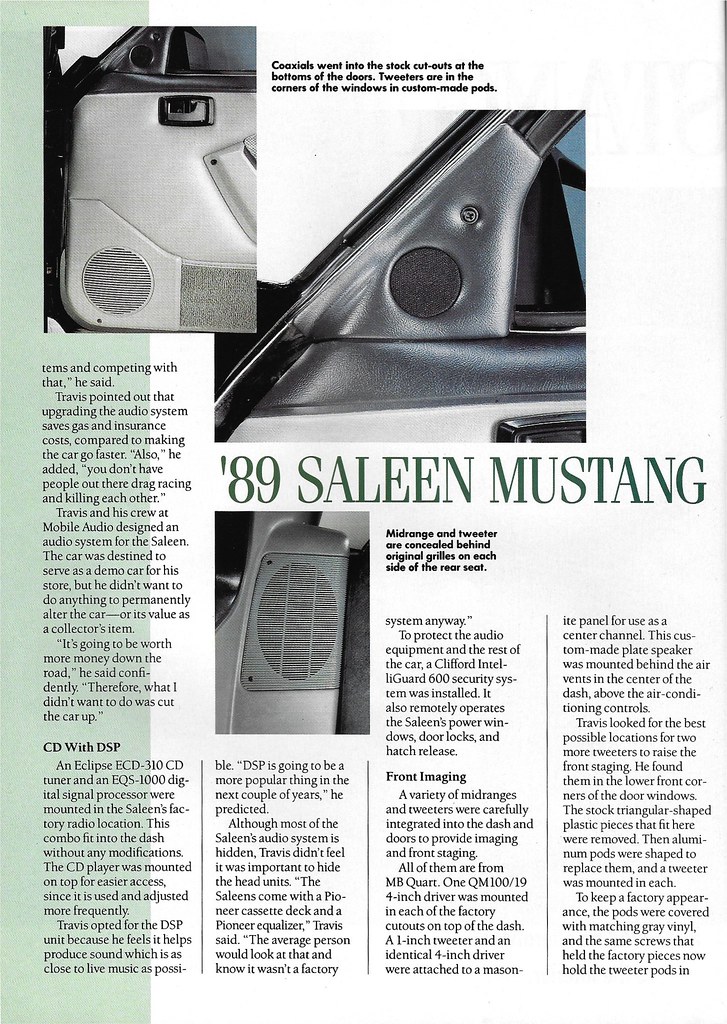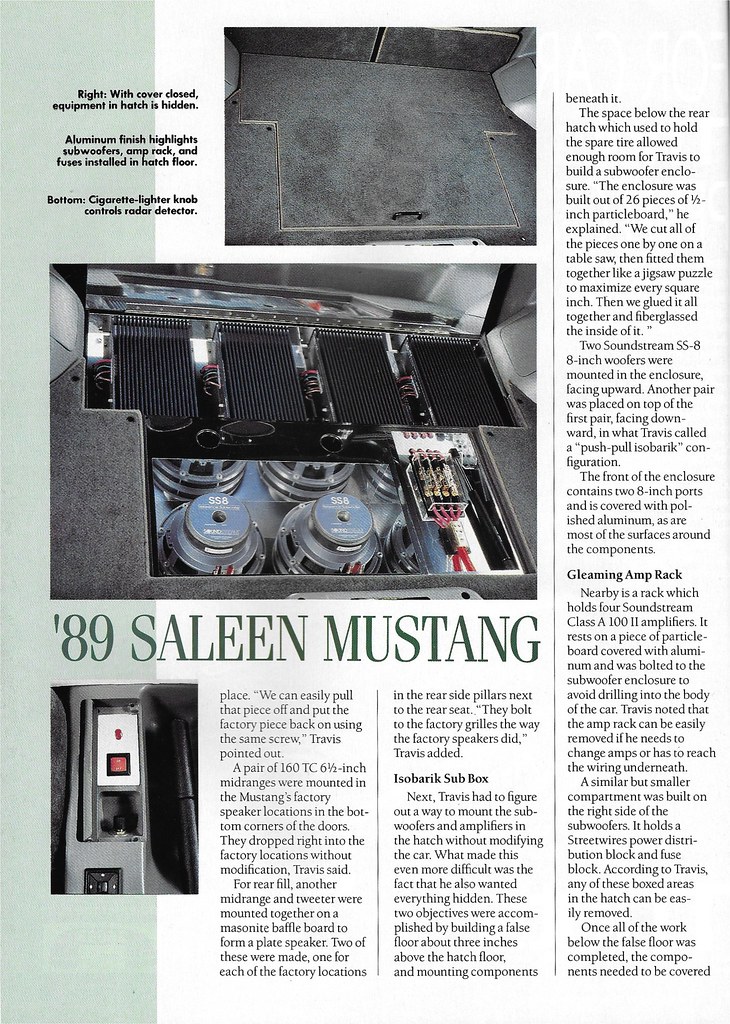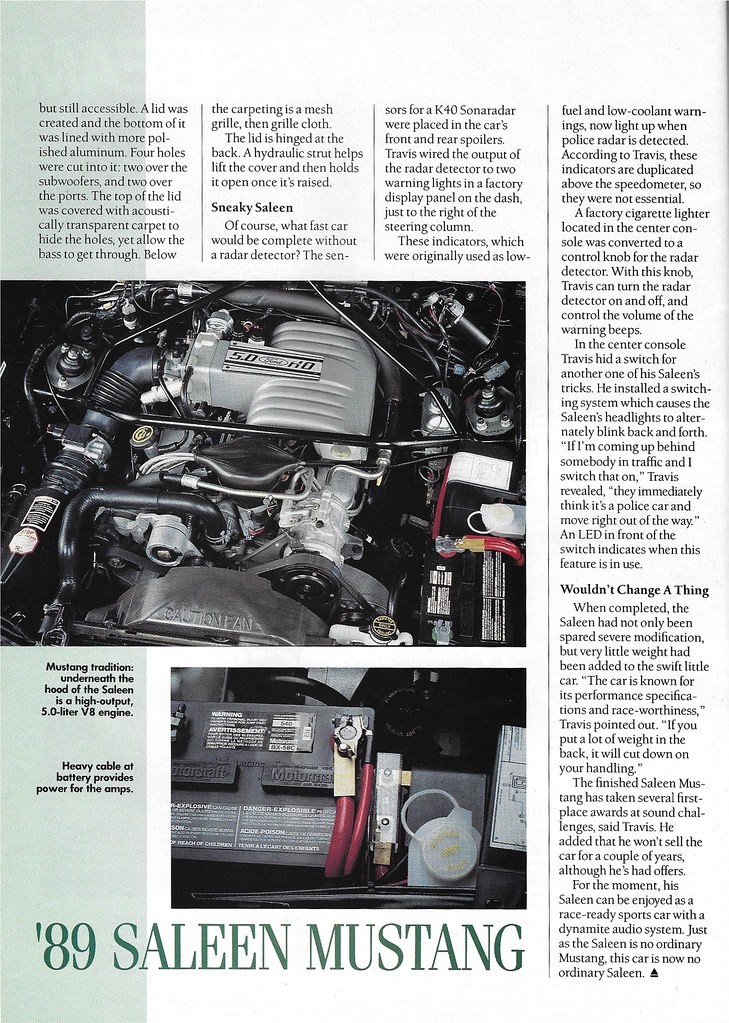 To make the Mustang even more competitive than it already was took day and night effort for a straight month – no days off – early days & late nights to get it done, but in the end, it did get done. The car made it to Phoenix, where it took 5th in the country in our power class! And this was against other cars that had been tweaked for years, instead of less than a week! All in all I was proud of the effort and in the end it turned out to be worth all the grief that I went through to get it done.
Partly as a result of the placing of this car, I was recognized by my peers in the car stereo industry as one of the top 12 installers in the country for 1991. I wrote about the experience in the article I submitted to Mobile Electronics Specialist magazine as the car most representative of my talents.
I've scanned all the pages of the article that details this installation so you can follow the links and read the entire article to get an idea of what it took to build a full-blown nationally competitive car audio system. And remember, this was 1991 – it's MUCH harder to win now!
CAR STEREO REVIEW – FEBRUARY 1989
Ben Thompson – 1987 Mustang GT
Ben Thompson was aprt of the team that outfitted a 1987 Mustang GT for the local Harmon Kardon/JBL rep: