CDIU51V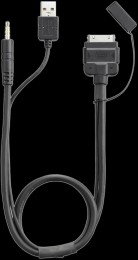 Pioneer Video iPod/iPhone Cable
Use the CD-IU51V iPod interface cable to connect an iPod or iPhone to your compatible Pioneer receiver, for full, direct, adapter-free control via the receiver interface. It plugs into the USB terminal, and gives you an audio/video connection through the mini-jack A/V or AUX input. Supported functions include:
Battery Charging
Keep your iPod charged while you enjoy your tunes. Once you arrive at your destination, your battery won't be depleted, allowing you to still enjoy your iPod (or not miss any important calls on your iPhone).
List browsing
Enable viewing of your iPod/iPhone's contents on your receiver. Scroll through lists of songs, artists, genres, etc. to get to whatever content you want to enjoy (just as you would while manually using your device).
Music Playback
Control the playback of your iPod music from your receiver, for easy controls without taking your eyes off the road. Your receiver can control track up/down, fast-forward, rewind, pause, repeat, and shuffle functions.
Video Playback
For those receivers that allow it, you'll be able to enjoy both video/audio on your receiver. The mini-jack portion of the CD-IU51V sends both signals for A/V-enabled inputs. Just be sure your AV input is set up correctly

DETAILS:
Part Number:
CDIU51V
Website:
Visit Pioneer's Website
In Stock?:
Yes
Normal shipping time:
One Day
Parts Warranty:
One Year
Labor Warranty:
LIFETIME
Included with local installation:
Video iPod Cable
PRICING:
Some of our products are prohibited from being sold or priced online, but if there is a PayPal purchase section below, you can purchase immediately using PayPal
If you are a local dealer, please
Log in
for installed dealer pricing.
If you are a LOCAL DEALER without login credentials, please
contact us
for access.
If you are
outside the Seattle/Tacoma area
and DO NOT see PayPal pricing below, please
Log in
using "paypal" as username and password to purchase, or call 253-297-4570 for credit card orders.
For product questions or to place an order, please
email Walt
via the contact form.