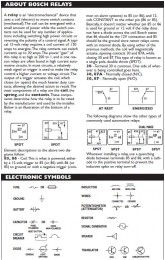 Relays have been around forever, and in the automotive environment, "Bosch" relays have become the standard, and have been widely copied. These relays are simply the best way to switch power, ground, signal, etc. in a vehicle due to their ability to carry a much higher load (30 amps) than most standard toggle switches, and their ability to be configured in just about any way imaginable to accomplish a multitude of tasks in the vehicle.
Relays are really very simple devices – they usually have five terminals; 85,86, 87A, 87 & 30. At rest, the relay's 30 and 87A terminals are connected (normally closed), allowing whatever is connected to terminal 87A to exit terminal 30 (or vice-versa). When the relay is turned on, terminal 30 is connected to terminal 87, allowing whatever is connected to terminal87 to exit terminal 30 (or vice-versa). Terminals 85 & 86 power the coil that turns on the relay – whenever there is 12 volts (ACC) on one side and ground on the other (it doesn't matter which is 12v or ground), the relay turns on, connecting terminals 30 & 87.
David Levy relay guide
To learn MUCH more about the operation of relays and the cool things you can do with them, check out the David Levy Relay Guide. This 44 page guide was published in 1995, and still has dozens of great uses for relays and will help you understand how they can be used to perform many different operations.
Posted in GM-Trucks.com by "Sinkhole":

Hello all. I posted something similar to this several years ago but I thought I'd refresh it for everyone. I always see a lot of talk about DIY installations. As an MECP Advanced certified installer most of the issues I see are due to poor installs and bad wiring connections. I just thought I post a quick little tutorial on how to make proper wiring connection, called a military splice, for those that are not sure. Many will say a soldered connection is better, but this connection has a few very important advantages over solder joints. Not to say that it is better than a soldered connection just that it has a few advantages with none of the disadvantages. First is a military splice can be undone easily if you choose to remove the equipment from the vehicle. Second you are not working with a high heat source in a confined area, thus there is no risk of accidentally melting the insulation on another wire. Also this connection is as reliable and strong as a solder connection if done properly.

Tools required
Strip Wire
Use awl to open wire
Wire ready for splice
Insert new wire into original
Twist new wire and lay flat
Tape connection
Ziptie to stabilize connection
Multiple connections can be done
Cover with split loom to protect