KDC-BT652U

AM/FM/CD/MP3 with iPod & Bluetooth Receiver
Driving can be dangerous when you're distracted. The Bluetooth capability that's built into Kenwood's KDC-BT652U CD receiver keeps your mind where it should be — on the road. When you answer a call, it's just like talking to someone who's sitting next to you, so you can keep your hands on the wheel and leave your phone in your pocket. A dedicated "phone" button on the receiver's face makes it easy to "pick up" when a call comes in.
USB Connectivity for iPhone and iPod
Most USB-enabled CD receiver models, feature USB connectivity for audio playback from popular devices like iPhone and iPod.  Featuring easy-to-use user interface, iPod browsing is a breeze when searching by playlist, artist, album, song, genres or composer.  Additionally, you can use advanced search functions like Reverse Browsing, Alphabet Search and Skip Search to find what you want to listen to, quickly and easily.  For added versatility, App/iPod Mode disables the receiver's integrated control, enabling passengers to control the iPod manually including some selected Apps.  The same USB connectivity allows users to connect USB thumb drives and external hard disk drives.
Check for iPhone-iPod compatibility at http://www.kenwood.com/cs/ce/ipod.
Pandora Connectivity for iPhone
Install the Pandora App on the iPhone and enjoy a personalized listening experience.
A number of Pandora functions can be controlled from a Pandora-enabled Kenwood receiver when an iPhone is connected through USB.  Functions include Thumbs up & down, Bookmark Artist, Bookmark Song, A to Z search and Alphabetical channel search.  Pandora allows users to maximize the internet radio experience in your car by customizing all of your favourite artists for a rich musical experience.
Pandora application requires a data connection on your iPhone with service currently only available in the U.S.
Kenwood Music Control for Android Smartphones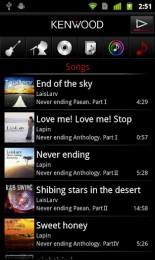 This Kenwood application organizes your music and provides quick and easy search capability from a compatible Kenwood USB/CD receiver such as by artist, song or genre. Additional function also lets you select music based on your mood.
This free Kenwood App can now be downloaded from the Android Market: Kenwood Music Control App for Android
Built-In Bluetooth Hands-Free
Bluetooth wireless technology promotes safe driving habits by allowing you to have a hands-free conversation while you drive without the need to hold a phone.  Incoming calls can be set to pick up automatically or at the touch of a button if you prefer to screen incoming calls.  For outgoing calls, you can choose to dial out by scrolling through your phonebook on the easy to read display interface or by voice dialing if enabled on your compatible smartphone.
Built-In Bluetooth A2DP Music Streaming
Enjoy wireless music playback from your Bluetooth device like a smartphone or tablet via Bluetooth through your in-dash receiver.
Check for Bluetooth phone compatibility at http://www.kenwood.com/cs/ce/bt.
DETAILS:
Part Number:
KDC-BT648U
Website:
Visit Kenwood's Website
Installations:
View our installations of the KDC-BT648U
In Stock?:
No - SPECIAL ORDER
Normal shipping time:
Two days
Parts Warranty:
One Year
Labor Warranty:
LIFETIME
Included with local installation:
Standard Kit
Standard Harness
Not Included:
Custom Kit
Satellite Tuner
HD Tuner
Steering Wheel Controls
Vehicle-specific Notes:
Factory satellite radio (if present) is lost when factory radio is removed
Some steering wheel controls may operate differently from factory functions
PRICING:
Some of our products are prohibited from being sold or priced online, but if there is a PayPal purchase section below, you can purchase immediately using PayPal
If you are a local dealer, please
Log in
for installed dealer pricing.
If you are a LOCAL DEALER without login credentials, please
contact us
for access.
If you are
outside the Seattle/Tacoma area
and DO NOT see PayPal pricing below, please
Log in
using "paypal" as username and password to purchase, or call 253-297-4570 for credit card orders.
For product questions or to place an order, please
email Walt
via the contact form.