Ford Multi-Camera/HDMI Module
Multi-Camera/HDMI Module for Ford Vehicles
This all-new video interface allows for the installation of multiple cameras around the vehicle providing unparalleled safety through added driver awareness. The 250-8452 covers the 2016-17 F-Series trucks, Explorer & Edge with the factory 8″ touchscreen and SYNC3 system. (NOTE: SYNC3 ver 2.2 will require updated firmware when available late March 2017. Please visit this link to determine your version number).
Considering the large front and side blind spots in these large trucks & SUV's, adding cameras in both locations practically eliminate them, making towing with large trailers and parking a breeze! With a front camera, front end damage can also be eliminated.
Imagine being able to hitch your fifth wheel trailer without help or view the road from the rear of a towed trailer – you could even add a camera inside the trailer to monitor your horses, livestock or toys. Camera options include rearview, sideview/blindspot, forward-facing, cargo/trailer and any other camera mounting location that you choose!
In addition, drivers can connect their mobile phone or tablet to the included HDMI input and instantly share their smartphone or tablet screen to the 8″ factory screen of their vehicle! This gives the ability to view any navigation app such as Waze, Google Maps etc., or any entertainment app such as YouTube, Netflix or Slingbox/Sling TV on the factory screen while streaming the audio via Bluetooth. (HDMI playback requires bypassing of  some factory safety features, please limit your use of entertainment apps to off-road use only)
The HDMI input can also be used to hook up any HDMI device such as Roku, Chromecast or Fire Stick, or even a game console such as PS4 or XBox! When combined with the hotspot that comes on your smartphone, the possibilities are virtually limitless for in-car entertainment!
Completely plug and play with the factory entertainment system. Module installation takes less than 30 minutes.
HDMI input allows mirroring of smartphone or tablet with no restrictions on playback (device-specific adapter required – not included)
Allows connection of up to four cameras to the factory screen in addition to the OEM backup camera
Allows monitoring of any connected camera at any time while driving (not including OEM backup camera)
Right and Left Blind spot camera inputs can be automatically triggered by the turn signals or manually with the touchscreen's CAMERA icon
Front camera can be triggered by speed (comes on automatically below 10 MPH) or manually with a long press of the button included
Easy to use menus in the factory UI with operational choices such as English, French, or Spanish language
Applications
2016-17 Ford F-Series trucks w/SYNC 3 & 8″ display
2016-17 Ford Explorer w/SYNC 3 & 8″ display
2016-17 Ford Edge w/SYNC 3 & 8″ display
Cameras
Videos (GM VERSION)
Features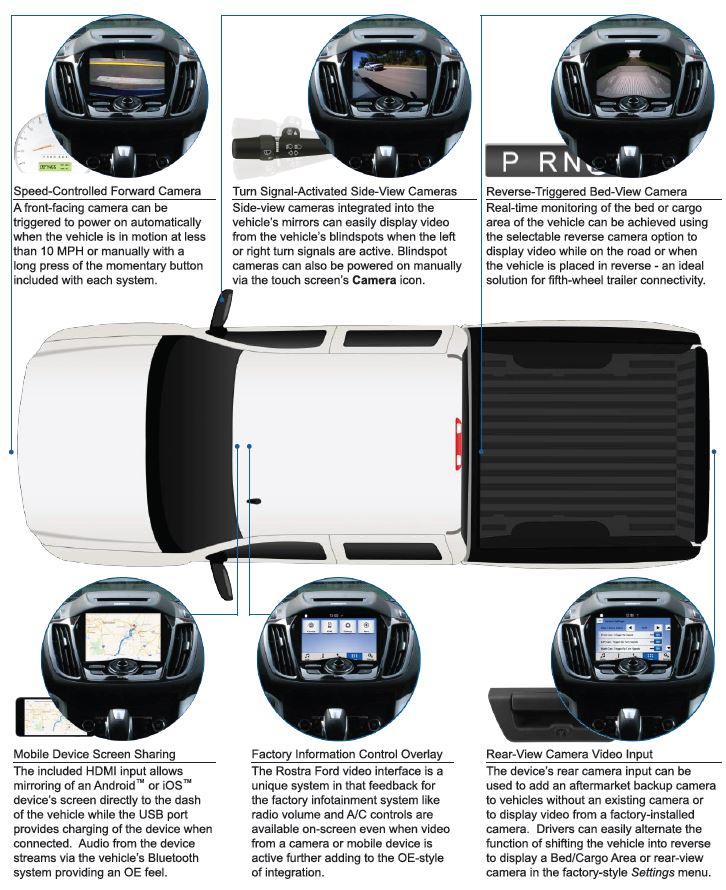 DETAILS:
Part Number:
250-8452
Downloads:
Sale Sheet
|
Quick Start Guide
|
Installation Guide
Website:
Visit Rostra's Website
In Stock?:
Yes
Normal shipping time:
Three days
Parts Warranty:
Three Years
Labor Warranty:
LIFETIME
Included with local installation:
Universal Front, Rear & 2 Side Cameras
NOT Included:
Vehicle-Specific Rear Camera
Vehicle-specific notes:
Some Vehicles May Require Add'l Labor
PRICING:
Some of our products are prohibited from being sold or priced online, but if there is a PayPal purchase section below, you can purchase immediately using PayPal
If you are a local dealer, please
Log in
for installed dealer pricing.
If you are a LOCAL DEALER without login credentials, please
contact us
for access.
If you are
outside the Seattle/Tacoma area
and DO NOT see PayPal pricing below, please
Log in
using "paypal" as username and password to purchase, or call 253-297-4570 for credit card orders.
For product questions or to place an order, please
email Walt
via the contact form.